There's an urgent need for foster carers across Australia.
Why do we have a shortage of carers?
The answer may lie in common myths that can act as a barrier to considering becoming a foster carer.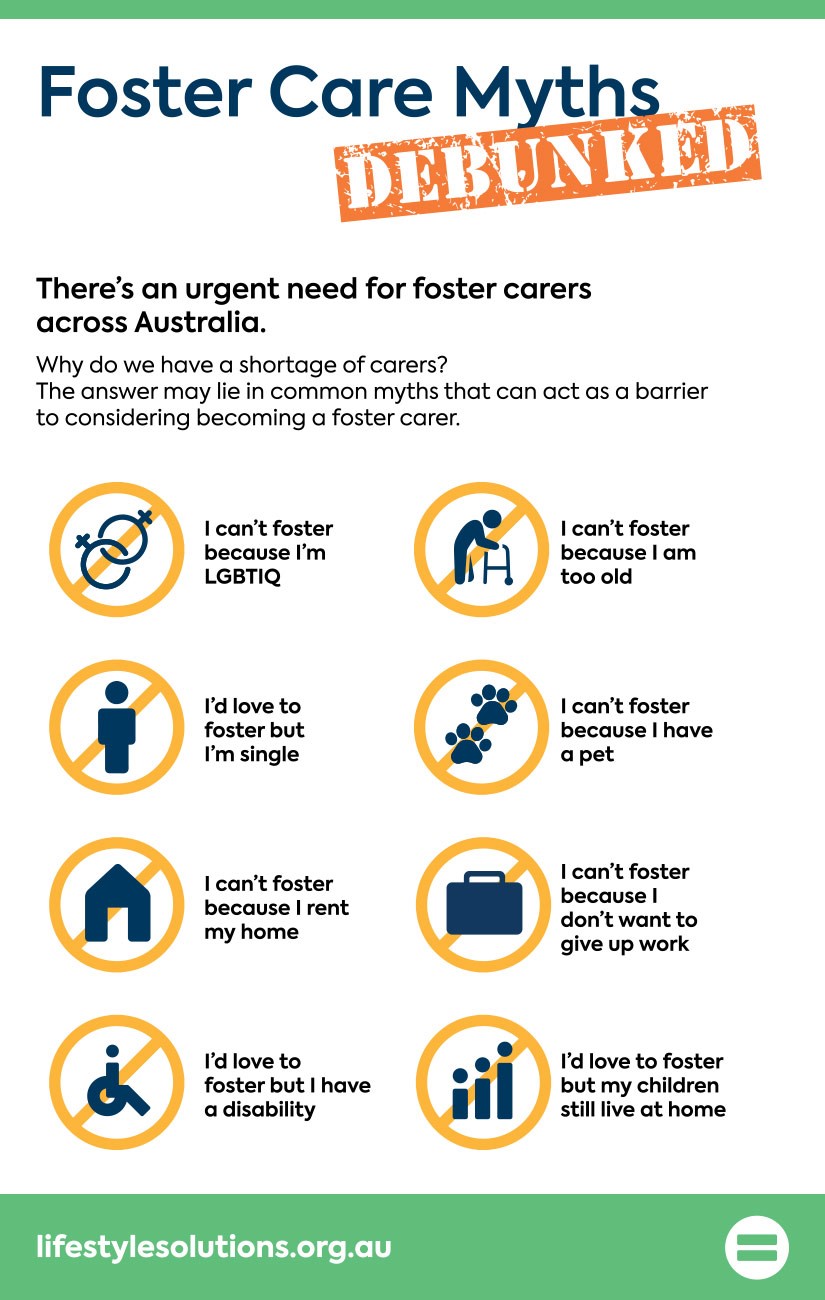 Myth 1:I can't foster because I'm LGBTIQ
At Lifestyle Solutions we welcome carers from all walks of life. We're looking for people with big hearts and lots of patience who can provide a stable, caring and loving home.
Myth 2: I can't foster because I am too old
There are no age limits on fostering children and young people. Many people come to fostering after their own children have grown up and bring with them lots of life experience and expertise.
Myth 3: I'd love to foster but I'm single
You don't have to be in a relationship to become a foster carer. Families come in all shapes and sizes.
Myth 4: I can't foster because I have a pet
Having pets doesn't prevent you from fostering. For many people pets are part of their family and can add to a child or young person's emotional development.
Myth 5: I can't foster because I rent my home
It doesn't matter whether you rent or own your own home. What is important is being able to offer a stable home environment with enough space for a child or young person, such as a spare room.
Myth 6 : I can't foster because I don't want to give up work
Many foster carers work. The amount carers work can depend upon the age of the children and young people in their care, or the amount you work you do may make a difference to the type of fostering you can do.
Myth 7: I'd love to foster but I have a disability
Every prospective foster carer goes through the same series of checks and assessments. If you're capable of taking care of a child or young person and offering a stable and nurturing home you can look at becoming a foster carer.
Myth 8: I'd love to foster but my children still live at home
You can have your own children living at home and be a foster carer. You've got valuable parenting experience to offer and the benefits for your own children and your foster child or young person can be immense.
---
Want to find out more?
Call us now on 1800 634 748 or make an online enquiry and someone will contact you.